American Mammoth Jackstock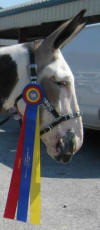 The American Mammoth Donkey has a recent history quite similar to that of the Baudet-du-Poitou in France. From the founding of the Americas, mules provided transport and power for agriculture, and there was always a demand for the largest, strongest donkey jacks for producing the mules. To improve the native American 'burros' large donkeys were imported from Europe. As a result the American Mammoth was a blend of Catalonian, Maltese, Andalusian and Majorcan donkeys. Poitous were also imported from France, but in much fewer numbers because they were always rare and expensive. Breeding had already been happening for over 100 years when the American Jackstock Registry was founded in 1888. The registry accepted jacks minimum 14.5hh (58") and jennies minimum 14hh (56"), the same criteria that are still in place today. In the early days jacks would be expected to be 15 or even 16hh.

As in Europe the introduction of motorized vehicles for transport and agriculture almost heralded the extinction of the Mammoth donkey. From around 1918 demand and interest plummeted, thousands were slaughtered, and whole herds disappeared. Luckily a few tenacious people kept their stock going, and today the Mammoth Jackstock is beginning to experience something of a renaissance. Breeders have developed a large, strong athletic animal which is now in great demand for riding and the production of riding mules.

At Hamerton we have been lucky enough to import some registered foundation animals from one of the leading herds in the USA, and we hope that the spotted Mammoth can be successfully established in England.