Miniature Mediterranean Donkey

The Miniature Mediterranean Donkey is an old established breed quite separate from the larger 'standard' donkeys. It originated from islands in the Mediterranean and adjacent parts of the mainland of both Europe and North Africa. Animals were taken from Sardinia to the USA in 1929, and all of todays minis are descended from those and other early imports. By 1995 there were over 2,000 in America and today that number is nearer 20,000. Over this time they have been selectively bred and are now the most perfect pets; gentle, loving and responsive, trustworthy and very long lived. Like all donkeys they must have company and never be kept on their own. Gelded jacks make the most suitable pets, and ideally you should keep two as they love company.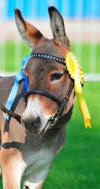 The earliest imports to England were in the 1970s and 1980s by Lord and Lady Fisher of Kilverstone. Our senior jack 'Jasper' originates from that early stock, and this line has been bred at Hamerton over many years. All of our animals are registered with the various breed societies both in the UK and the US. Over the past few years we have imported further animals from selected herds, and the herd now includes greys, spots and browns of various shades. Bloodlines here include many prize winners and champions from ShortAssets, Country Music, Frontier Legends, Itsy Bitsy, Willow Creek and other lines, in various combinations.
Many Miniature Donkey blood-lines carry the naturally 'reducing' gene, and although the maximum height for the breed is 36", most of our donkeys at Hamerton are between 29" and 34" tall.